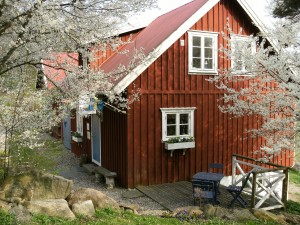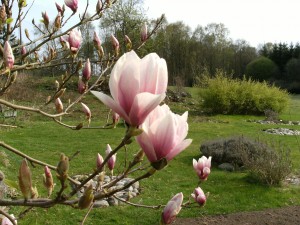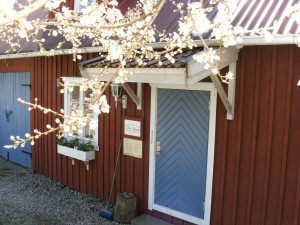 Finas Torpgård Bed and Breakfast, Kungsbacka
Staying at Fina's Torpgård near by Kungsbacka and Gothenburg in the West of Sweden, should be a little like coming home. That is homely with made beds, towels and access to television and books to read. Or just to relax. Guests staying in the house and the hosts in the old cottage.
You make your own breakfast from the well-stocked fridge. There is always sour milk, milk, cereal, eggs, caviar, juice, jam, cheese, smoked ham, vegetables and more. Coffee and tea of course. At least two kinds of fresh bread and crisp bread. White bread to toast in the freezer. Please let us know if you want something else, and we try to fix it. You can also cook a simple meal if you like (fridge, freezer, microwave oven, stove with two burners and oven). We also offer free wireless internet.
On the farm you can borrow a rowing boat, swim in the lake which is 100 meters from the house, borrow a grill and table up to a long table in the small barn, use the sauna and borrow a washing machine. Low prices! Beautiful walking paths, plenty of mushrooms and berries in autumn.
Environmental declaration
We want to contribute to a sustainable environment and aspire to constantly live up to lofty goals. All the electricity we use comes from wind power. Ecological food purchased wherever possible for breakfast. Separate collection pursued and hot compost are available. Chemicals and detergents according to sound environmental choices and in doses as low as possible. Waste sorting is important, and food scraps and coffee grounds are placed in separate bag that goes to the biogas production. We encourage our guests to reuse their towels but change of course on request.